[Scotland Revisited.]
Last September, Francine and I spent a desperately wet, windy and dismal two weeks in Scotland. Eight of those days were on the shores of a sea loch at Bunree on Scotland's west coast. We were told we should have been there a few days before, which were supposedly very pleasant.
It's happening again. My post yesterday mentioned landing at Alicante in some welcome sunshine. The sunshine was actually unexpected. Although Spain has been enjoying particularly fine weather this spring, the forecast for our arrival was, shall we say, not great. Having been pleasantly surprised yesterday, today reality struck. Host Chris found a local forecast and announced that we should expect:
20mm/¾in rain overnight
30mm/1¼in rain on Thursday
40mm/1½in rain on Friday
Sure enough, overnight, though I slept soundly after our long travel day, I did hear rain. This morning we were faced with conditions that I never expected to see in April in Spain.


At Bunree in Scotland, there were mountains on the opposite side of the loch but we couldn't see them, most of the time. Here in Jalón, we are surrounded by mountains of a similar height on either side of the valley and now we can't see them, either. (There are mountains in both these photographs.) The wind is still lashing down from the north bringing with it almost horizontal rain, the palms are thrashing, there are small waves on the swimming pool and we can't see through the rain-spattered windows. It's a paltry 13°C/55°F outside, the fire's alight and we've put our fleeces on. It seems there is a nasty low pressure system sitting over Italy sending this crap our way.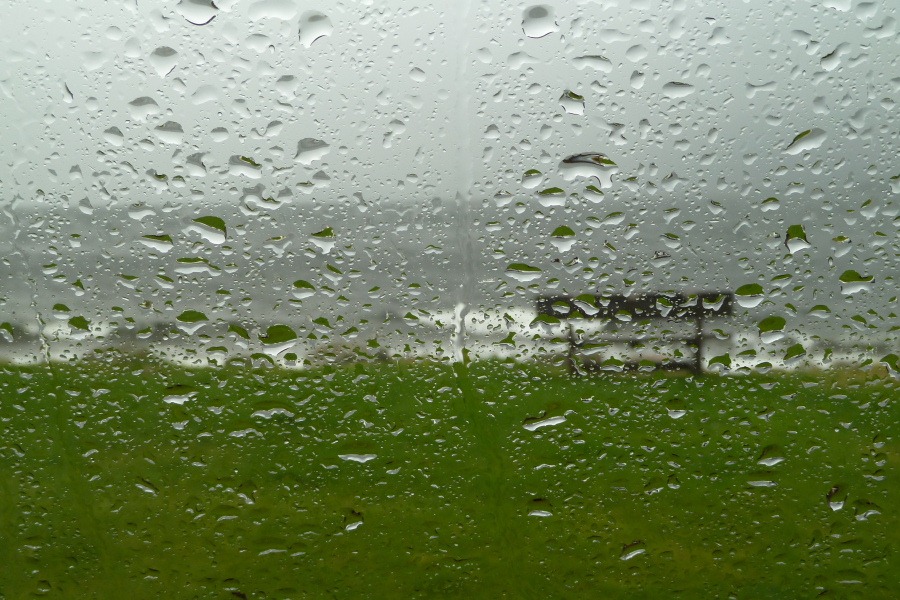 This is painfully reminiscent of Scotland last year. We really must have a weather jinx.