Given the atrocious spring in the UK thus far this year, we've been looking forward to today with eager anticipation for some time. Today, we were flying to Alicante, Spain, once again to look after our favourite perrito [little dog] and house in Jalon. The only downside was that our easyJet flight was to depart Luton airport at 6:20 AM.
Our early departure meant that we were roused from slumber by Francine's mobile phone at 3:00 AM – at least the alarm tune is gentle – to complete last minute packing, sponge bags and so on, and secure the house ready for our delightful neighbour, Liz, to drive us to the airport. Now THAT is above and beyond the call of duty and we were very grateful. Sure enough, Liz was awake and we began our journey at 3:45 AM.
At 4:15 AM Luton airport was relatively calm, one might even say quiet. Checking in on-line is all very well but, with hold baggage, it is still necessary to join what is effectively a check-in line to drop off the bag. At least there was now one snaking line for multiple desks. That and security went well and we were soon raiding Starbucks in the departure lounge.
Boarding was interesting: easyJet now does allocated seating. Very few people, it seemed, were now paying for "speedy boarding". Well, with an allocated seat number, why would they? It's not as though getting onto the aircraft first gives you a better choice of seat any longer.
I like flying from airports without jet ways/air bridges; there is something more romantic about walking across a tarmac apron beneath the aircraft's wing – well, almost – and clambering up steps into the plane, even if it is cattle-class throughout. Embarkation went smoothly, we grabbed our allocated seats and were soon off.
We were seated in the rugrats section. Oh joy! A smoking ban on planes has improved life greatly. The next civilized advance that we need is a ban on screaming. Actually, the little screamers weren't too bad, especially with the two jet engines running at take-off power, and the aural pain was further lessened by a shortened journey with our landing ~35 minutes ahead of schedule. Losing 35 minutes from a flight timetabled to take  just 2hrs 30 minutes  requires one heck of a tail wind, I imagine. Clearly, the wind was coming from the north. Fortunately, our hosts had realized we'd be blowing into town early and were there to meet us in a welcome spot of Alicante sunshine.
With the day already feeling long, our only agenda item was a trip to a local supermercado for some supplies. Normally, the most important stop would be to the local wine shop for 5 litres of our favoured rosado but Chris and Yvonne had alreadytaken care of that one. It's gone up! For the last few years we've been paying €4.95 for 5 litres (including the plastic container) but now it's €6.00. Apparently, taxes have increased substantially as part of the Spanish economy's austerity measures. No matter, we'd get only a 750ml bottle in the UK for that money.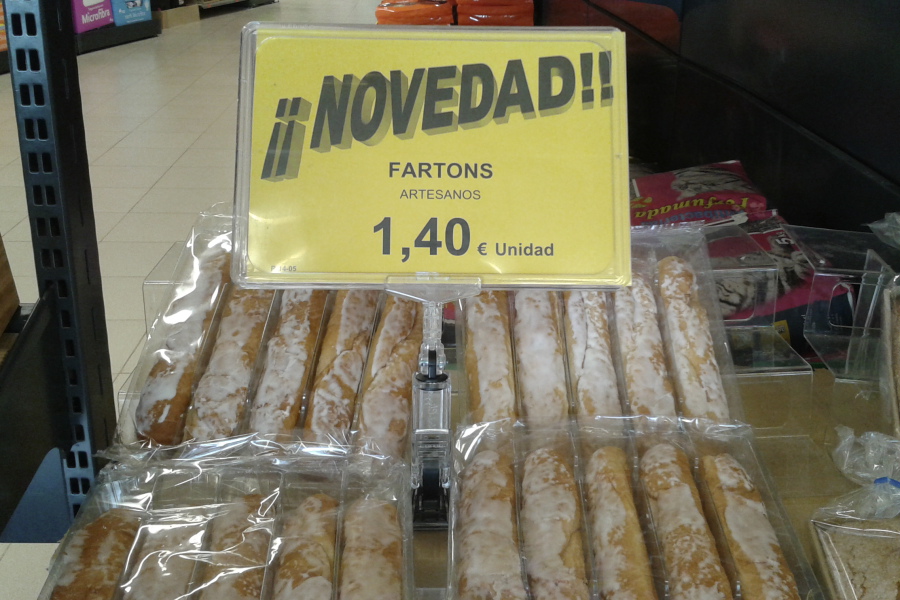 So, just food it was and, just inside the supermarket entrance, we were greeted by this intriguing sign promoting "¡¡Novedad!! Fartons artesanos". Hmm? [Novedad = novelty/newness.]
With a superhuman effort we resisted the novelty home-made fartons in favour of a whole monkfish, which was also something of a novelty for us, its head being still attached. You wouldn't see a whole monkfish on a fishmonger's slab in Britain. As a nation, we're far too squeamish for a head that ugly to be put on display and must have our sensibilities protected. These days, it's hard enough finding any fish not already filleted in Britain.
We've arrived. Getting up at 3:00 AM was a bit of a novedad, too.