Our second day high in a brilliantly sunny Auvergne and what a glorious region it is in such weather. There are a staggering amount of walking routes all around us with breath-taking scenery to be enjoyed.
Yesterday we spent a lot of time combing Lac (de l')Estivadoux for the Irish Damselfly/Crescent Bluet (Coenagrion lunulatum). We didn't find it but we did get a tantalizing glimpse of what I now believe was a Yellow-winged Darter (Sympetrum flaveolum). More precisely, Francine got a glimpse of it but I did not. I couldn't waste weather like this in such far flung habitat; had to go back for more.

Returning to Estivadoux, I put my trusty Salomon Techamphibians on again and we began combing the shallow vegetation-rich lake. Now I had two quarries, the Crescent Bluet and the Yellow-winged Darter. I continued not to see any Crescent Bluets but I did briefly happen across a Yellow-winged Darter – just briefly enough to snag a mostly in focus shot. However, Francine discovered a sheltered dip in the ground beside the lake that appeared to be attractive to them and we managed some much improved shots. This species was just emerging and all the examples we found were immature. This is an immature male whose abdomen will eventually turn red. The wings do show the extensive yellow patches characteristic of the species, though.

I still didn't find my primary quarry but another interesting character, a Yellow-spotted Emerald (Somatochlora flavomaculata), did put in an appearance as we were leaving, hunting over the access path. It flew tirelessly, as is their wont, but Francine managed to snag it.
Where we left to was another high altitude lake [1168m/3800ft], Lac de Bourdouze.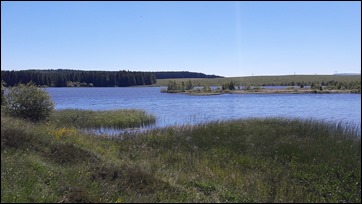 This place turned out to be Emerald City. As we approached, we saw more examples of the Yellow-spotted Emerald that we had just encountered at Estivadoux. When we were actually at a suitable observation point beside the lake, though, there was a brilliant metallic green flash as an appropriately named Brilliant Emerald (Somatochlora metallica) zoomed past. This was one of those critters that I'd observed before but not managed to photograph. The main problem is that they fly almost continuously, rarely settling. This beast was being reasonably predictable, flying a couple of paths, not exactly predictably but at least relatively frequently. We both took up station and clicked away, soon abandoning autofocus [too slow] and switching to manual. "Everything looks sharp on the back of a camera", sprang to mind. The trouble is, it's a small thumbnail. Best not to get too excited. We both thought we'd got something reasonable, though. Once back at home base and with processing available, indeed we had. One of my two bogey dragonfly snagged. [Since you ask, I still need the Northern Emerald (Somatochlora arctica).]

After a while, I saw an Emerald settle in a tree beside us – dreadful lighting, though. It took off again and began flying. I kept trying more in-flight shots. This one turned out to be a third Emerald species, a Downy Emerald (Cordulia aenea) which we do have at home. It was nice to snag one in France, though.
So, one more lake but with three different Emerald species and a bogey laid to rest. A pretty good day, really.