We will be having three large vertical radiators fitted: one in the dining area, one in the kitchen area and the third in the hallway, where it will replace two smaller conventional radiators. The two larger ones weigh 40kg so I really don't want to get involved in hefting them off the wall to paint behind them; I would much prefer to get the walls painted before they get fitted.
I'm also keen to get the other walls painted before our new cupboards are fitted because I'm anxious to avoid having to cut-in around brand new cabinets. So, we've been zooming about like BAFs looking at colour cards and buying matchpots to decide on a colour for the walls.
We'd seen a Farrow & Ball colour that appeared to match our Ivory-coloured cabinets. Good ol' Homebase [I'm lying] didn't have a matchpot, though. Neither did a larger Homebase in MK. Mind you, at £5 for a matchpot and with a 2.5L tin of Farrow & Ball emulsion costing a stonking £48, I don't think I'm unhappy about missing out.
Dulux matchpots are a much more reasonable £1.60 and come with a handy-dandy built in mini roller to apply them. We bought 5, I cut 5 pieces of lining paper and started to apply them.
They were all essentially light cream and all looked essentially the same, to me, anyway; differences were subtle to say the least. I wondered if the lining paper, being beige, might be affecting the resultant appearance so I applied more samples to plain white A4 paper. No, they all looked essentially the same. Subtle differences may just about have been discernible as they dried.
Our friendly kitchen supplier said we could have the sample cabinet door, with a chunk of the quartz worktop and our contrasting Oxford Blue island units to stare at and compare. Very helpful.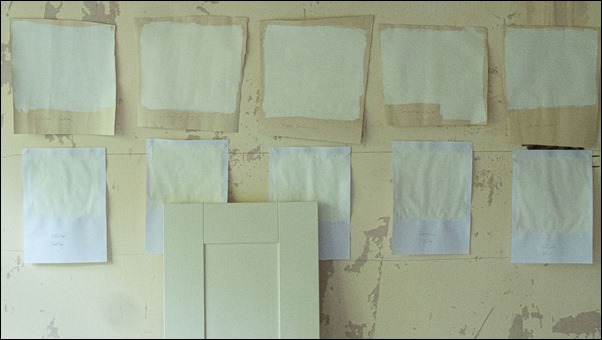 Stop Press: None of 'em are right.
Back to the drawing board.