Yes, yet another walk with the Costa Blanca Mountain Walkers. This walk was advertised as the Barranco de Turrubanes Circuit, another blue grade walk of 10 kms with 350m of ascent, starting from Vall d'Ebo, which is itself quite high at 400m. However, the intended walk, when recced, proved to be impossible – a fence had been erected across an indispensible path. So, our fearless leaders swiftly came up with an alternative route of similar length starting from the same village.
A week ago we'd been on another walk with the CBMW folks and had driven through Vall d'Ebo to get to that start point. On that occasion, as we passed through Vall d'Ebo the temperature had dropped to 3°C. today was no different; descending into Vall d'Ebo once again the car bonged its less than welcome warning of 3°C. My legs, clad in crop-length walking trousers, felt decidedly underdressed.
The new walk began in a rather tedious manner, that is to say, mostly on a concrete road winding its way up the side of the first hill. Personally, I would rather be on rough rocky terrain than hard, even but unrelenting concrete. After some descending, though, we eventually struck off across a vegetated footpath which would lead us up routes consisting largely of my favoured rocks before descending a similarly rocky track back down to our start point.
Two years ago, these hillsides had been devastated by an horrendous forest fire, caused by a careless old farmer who almost lost his life for his troubles. Back then, I'd seen the blackened skeletons of trees left behind shortly after our arrival. One effect of the fire was to reveal a footpath that was hitherto unknown to the walking group. Now the hillsides and mother nature are recovering nicely but the regrowth is making some sections of the newly discovered track difficult to negotiate. Negotiate it we did but some of the going was quite hard work. It was worth it, though, given these views. This is looking over Pego to the Mediterranean beyond.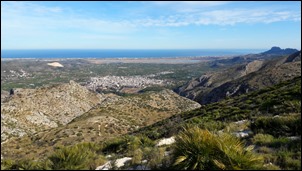 I've been trialling a few different GPS route trackers. The one I switched on today claimed that our walk  had covered 5.8mls/9.33kms. A more comprehensive piece of kit being used by another walker added the total ascent figure of 420m. It was a most invigorating walk but, because of the tough terrain, these were the longest 9.33kms that I've ever walked. Very enjoyable, though.
Naturally, this effort required refreshment. Vall d'Ebo itself seemed almost dead until, that is, we opened the door to a local bar and found almost all of the 286 [2012 figures] inhabitants therein. So that's where you all are. With a 1ltr bottle of Amstel costing a mere 3€ I could understand why.
Oh, Francine and I shared the bottle – I was driving. 😉