On Monday our walking group, numbering eight, had gone up a couple of mountains that gave us great views of the mountain known as the Montgo towering above Dénia and Jávea. Today, our Wednesday walking group, the Costa Blanca Mountain Walkers, was heading up the Montgo itself. That should give us a different perspective. Another aspect was going to give us a different perspective, too: there were 40 of us. Strewth, a busload!
Happily, a much recovered Francine was with me. We began with the usual briefing about walking at your own risk and warnings that the initial ascent of almost 400m was a bit narrow, quite challenging and, being up a gulley still in the shade, would be damp and slippery.

They weren't kidding. Getting 40 souls up a narrow, slippery gulley takes quite a time and we, now walking near the back for some peace and quiet, were forced to stop and wait in the cold shade a number of times and for several minutes. As we'd left the car park at the beginning, I'd been following two ladies who, after half a kilometre or so had not stopped talking, hence my dropping back to join the back marker.
Frankly this many people on a walk was too many. There was too much stopping and waiting and a lot of talking. I renamed the group the Costa Blanca Mountain Talkers. Our back marker enjoyed that and confided that he had thought of arranging some "silent walks" where the only people allowed to talk would be the leader and back marker to give instructions. We'd discussed limiting the size of the groups but that seems a tad too difficult – it's free form and members are free to just turn up or not.
There had been a couple of slips and stumbles, fortunately nothing serious, on the way up. As we were approaching the top, one lady was heard to mutter, "almost there, the end's in sight". Our back marker was less than pleased and explained how dangerous such an attitude could be – the going is still uneven and potentially slippery; you must keep concentrating.
Once up, safely, we could look back down the gulley, with a sense of achievement, up which we had come.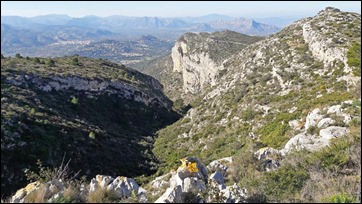 Walking along the track on top of the Montgo in the warm sun was very pleasant. With some slower talkers about half way down the group, it broke quite naturally into two chains of about 20 each. We were happy to continue near the rear. Francine was delighted to spot an Ophrys orchid in flower very early right up on top. It wasn't in the greatest of condition – there didn't appear to be a lip – but we didn't know if it may have been nibbled or was, perhaps, malformed.
Further round the high path we got expansive views of Dénia and its harbour beneath.
Before our descent there was the CBMW/CBMT lunch stop, which I'd personally rather not have, preferring to keep the legs going, but we finally continued and descended a wider track strewn with loose stones requiring more concentration and care.
Our route eventually finished up on a paved track before returning on the flat through the woods to the cars. It's tempting to switch the brain off at this point but to do so is dangerous. Right in front of me a lady was regaling Francine with stories. Quite suddenly she pitched forward and fell, heavily, flat on her face (the other lady, not Francine). She had caught her foot under an aerial root anchored at both ends in the woodland floor beside the path – a very effective trip wire. Blood poured from a flap of skin torn on her thumb. She was shaken and feeling a little queasy but not seriously injured. One of our number was a retired doctor who checked her over before another helpful chap got a car close by so she could be driven off to the current professionals in Dénia hospital.
There were far too many people to contemplate queuing for a beer with the remainder in a bar.
Walking in the mountains is uplifting but can be risky. It really is best to continue concentrating all the time – more walking and less talking.