Monday walking group time again. Unfortunately, Francine had a need to visit a farmacia so could not accompany me. She also needed the car so I was into being dropped off and bumming a lift to and from the walk.
[Linguistic aside: We've been a tad confused about the Spanish for pharmacy, in particular where the stress falls. We thought we'd seen the word, basically farmacia, both without and with a stress mark. I think I finally cracked it and, almost inevitably, we've been falling foul of the mixed pair of languages in our region, Castillian (national Spanish, if you will) and Valenciana. Normally the mix up is more obvious 'cos the words differ but here, we're dealing with farmacia (Castillian – stress on the "i") and farmàcia (Valenciana). Phew! It'd help if Google translate had Valenciana. OK, back in your box, Franco.]
Francine popped off for some drugs and I cadged a ride to our start point, a bridge under the A7 autopista at the foot of our initial ascent. Yes, initial ascent; we were being treated today to three linked peaks. The only really notable thing on our way up the first and second was a trail of red marks on some of the rocks over which we were walking. The marks did look a lot like blood and someone suggested that hunters had perhaps dragged a dead wild boar down the same path. I remain unconvinced: it would have been one heck of a physically demanding task. The alternative suggestion was that someone had chosen to mark a route, perhaps for a similarly demanding run, using a dull red paint. We'll never know.
The other thing we didn't know was our route up. We went off-piste a couple of times before GPS made our fearless leader aware of her mistake and we got back on course. Maybe we should've been following those red marks ourselves.
There was a gentle descent after the first peak before we climbed again to the top of the second, handily marked by a sign post. This was the highlight for me because we had a very clear view of the Montgo, the rather odd mountain that towers above the towns of Dénia and Jávea/Xàbia [there's that Castillian and Valenciana mix up again]. I say "rather odd" because the Montgo is a sort of standalone coastal mountain, so perhaps a little more impressive than it would be were it nestling amongst other similar peaks.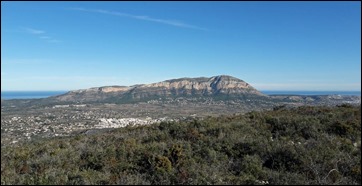 Whilst trekking between the first and second peaks had been quite gentle, with only a modest descent between the two, the route between the second and third, the final and highest, was more difficult. The descent was quite long and the loose rocks on the path made care essential; I was glad I had my poles. There's something frustrating about losing the height you've gained, only to have to go up again. 🙂 Still, that's walking in the mountains.
After another wrong turn and brief sally off-piste, we continued to descend even more before our eventual third and final ascent which was steep and tough on tiring legs. It got us back above our parking area overlooking and overhearing the autopista. Another walking group, the leader known to ours, was already at the top enjoying their lunch break. Their lunch paused for a natter. Our group doesn't do lunch stops which is the way I prefer it – my legs tend to believe they've finished.
I'd actually been up this lump before with the Costa Blanca Mountain Walkers so I new the decent we were in for – it's a little precipitous in places. We made it unscathed and back to the cars, though, where I bummed another lift for a couple of well earned beers.