Flexible folks are the Costa Blanca Mountain Walkers. This Wednesday there was originally no moderately graded walk, just a red run and two black runs. Two blacks, indeed. Francine says two blacks is quite usual. Clearly we need more training. We have done a red but we're still getting back into it after a couple of injuries, so not just yet. Anyway, the call went out and nice chap called Barry agreed to lead a late addition blue run starting in Lliber, which is a quaint village in our valley.
The details posted were to start in Lliber, then make a circuit round to Senija via the so-called Hidden Valley, and from there to return to Lliber. It would be 13kms with 375m of ascent and take 4½hrs. Irresistible! Well, it was likely to be one of the bars in the middle of Lliber at the end that would probably prove irresistible.
Just to try something different and because I seem to have found a GPS tracker app that works, here's the route – go clockwise starting in Lliber on the left.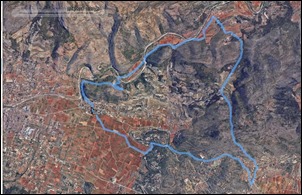 The walk was very enjoyable, too, though. As it cut back towards Senija, the route joined a section of a route with which we are very familiar, the walk up to the cross above Senija. We use that as a limbering up walk when we have just arrived in Spain and need to get our legs moving again.
The almond blossom is just beginning to burst on a few trees but we're not into anything spectacular yet. Here's a shot showing an almond tree and a very attractive dry stone wall, the point of which we could not determine. Jalón is central in the distance.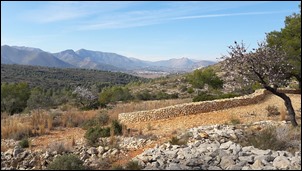 There is a traditional almond blossom walk in the Jalón Valley in a couple of weeks. We're booked in. Let's hope the heavy rain forecast for next week doesn't ruin it.
The walk details proved accurate and, just as I thought, the bar in Lliber was irresistible.