It was a slightly breezy but, having found odos still flying at Jalón shortly after we'd arrived, we thought we'd go and check out one of our favourite haunts, the Marjal de Pego-Oliva. At this time of year, the fun is not so much in the species one finds – there's really only one likely – but seeing just how long end of the season can be stretched.
We found no signs at our first stopping point, so continued to the main parking area and took to our feet. As we were walking along the initial stretch of the river, which had begun by looking distressingly quiet, one dragonfly zoomed past us only to disappear over the reeds. It looked like a female, brownish, and was in all likelihood a Common Darter (Sympetrum striolatum). It gave us cause to continue, though.
We saw nothing more along the river, but conditions were less than perfect, being very breezy. We struck out into a reeded area – well, bamboo, really – along a boardwalk where conditions were a little more sheltered. Francine spotted something fly but we lost it in the confusion of vegetation. Further around the curved boardwalk conditions improved further and we spotted several dragonflies basking on the warm boards. Bingo!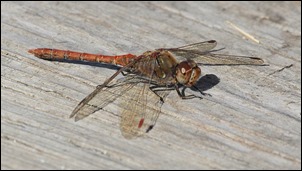 These were clearly Common Darters which rated as a new species on my list for this location. Happy camper.