Our first night aboard passed very comfortably courtesy of the two fixed-bed "staterooms". [Boating people, at least American boating people, seem to refer to bedrooms on a boat as staterooms. Who am I to argue?]
Having learned our lesson that the galley [boating speak for kitchen] can really accommodate only one person at a time, we were underway at 8:02 AM, our first goal being to fight our way out of Milton Keynes.
We had not yet achieved our first goal when we came across a water point at Gifford Park. The water point in question was a very slow water point, we were told, and was already being used by the person who told us, so we were delayed waiting before we could even start to fill up our own fresh water tank. Taking on water is a daily requirement, especially with four folks using showers. After about 15 minutes, we got connected to the water ourselves and were filled up in about another 20 minutes.
With almost constant moored boats along the length of the canal, leaving MK had to be done at tick-over speed, which is about 2 mph. As we did achieve our first goal, we were overtaken by a Mallard swimming serenely along. 😀
Our main goal for the day was to get through the 3000+ yards of Blisworth Tunnel, which lies just a spit above Stoke Bruerne (home of the canal museum) and most particularly after the 7 locks that raise boats up to Stoke Bruerne. We joined up with one of Juniper's sister vessels to go through the locks two by two. The extra pair of hands was welcome and our new friend seemed to appreciate the help and guidance, too.


At the Stoke Bruerne top lock, our activities generated lots of interest amongst the swarms of day-trippers; a lock gate competition developed between a group of girls on one gate and a group of boys on the other. The girls, however, did seem to recruit a little male support. Children, yikes, not Franco's natural habitat at all.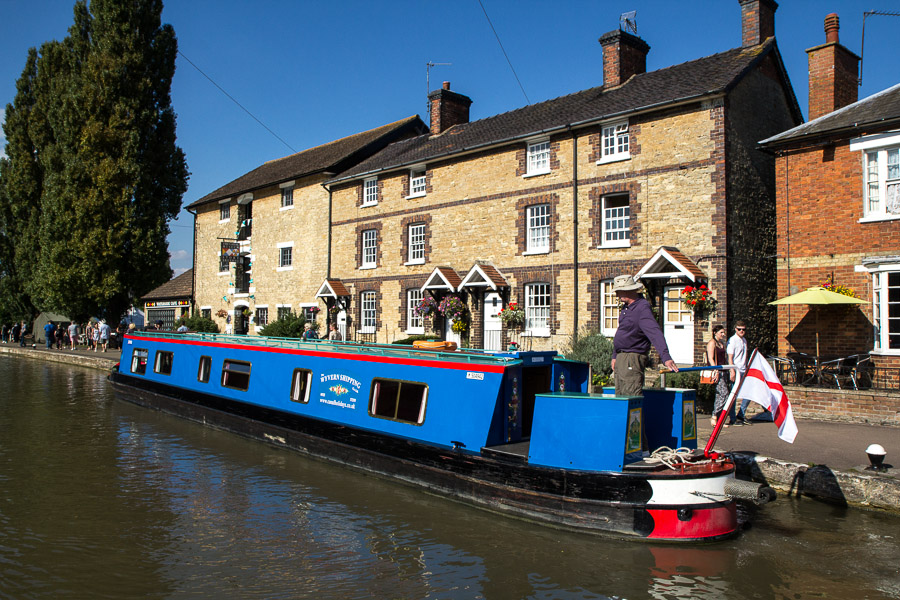 After a brief pause in Stoke Bruerne to purchase a River Thames guide book, Captain Virginia negotiated Blisworth Tunnel very well, the darkness lasting about 35 minutes. An oncoming boat entertained us with some moderately loud music from Gladiator as it passed, which is an interesting experience in a 3000-yard, pitch black tunnel. It felt good eventually to break out into sunlight again after more than half an hour of disorientating darkness. Prior to internal combustion engines, I believe bargees used to traverse the tunnel by "walking" along the tunnel walls whilst lying on planks protruding from the sides of the boats. Just how ridiculously difficult and tiring that was, I can't imagine.
Main goal achieved, we moored for our second night after 10 hours and 21 miles, about 5 miles short of Weedon Bec, for some well deserved pre-prandial drinks.