With my legs looking forward to a further work out [should that be walk out?] and with Francine taking drugs and on the mend, we both fancied renewing our acquaintance with the Costa Blanca Mountain Walkers. The really useful thing about the CBMW group is their grading of walks. The group contains a few folks that I could describe only as very fit mountain goats who embark upon walks that I wouldn't want to touch with a Leki walking pole. Very sensibly, these folks borrow the typical ski run grading system and apply it to their various walks which are categorized as green, blue, red or black. The grading takes into account a combination of distance, total ascent and quality of the surfaces underfoot. Somewhere in there there's probably the sheerness of the drop on either side of the ridge, too. What a very sensible idea.
Today, Jo was leading a blue walk from Castell de Castells. It was described as a 10km walk on good tracks taking 3½ hours with a total ascent of 387m. The ascending was apparently all up front, i.e. before anyone would get too knackered. Castell de Castells is convenient for us, being about 25 minutes further up our valley. Sounded perfect.
Mornings in Spain can seem a bit tricky, timing-wise. It's because Spain is rather stupidly [IMHO] on Central European Time, even though its longitude is much like that of Britain. Spain is essentially an hour too advanced. Thus, much of the morning can have vanished by the time one galvanizes oneself into action. We just about managed to get our act together in time to arrive in Castell de Castells a few minutes before the 10:00 kick-off.
We joined a friendly band of seven others at the start. Weather conditions were dry but with passing clouds; probably more cloud than blue skies. The temperature was cool in the shade but warmer when the sun appeared and when we were out of the shadows. Actually, it was a good temperature for walking uphill, which is what we began with. I needed just a t-shirt and a cover-up shirt. Having gained all our height, the walk was then a steady descent round a loop back into Castell de Castells with views of the village for much of the time.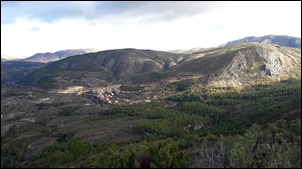 Both Francine and I were walking in newish footwear. Both sets of footwear and Francine held up well, I'm happy to say. It was good to be back on foot again. The only thing that might have improved the day would have been Castell de Castells having a halfway decent bar, which it apparently does not. We returned to Benigembla, which appears to be regarded as CBMW Central, to slake our thirsts.
A couple of years ago we did do one of the red routes but we'll need a little more practice before we tackle one of those again.