We had been put in touch with a Monday walking group, a group led by Helen who organizes walking holidays under the banner of Balanced Life Holidays. fancine had made contact and we were both keen to join in but on the day poor Francine needed to seek some medical assistance so our car was spoken for. However, a friend offered me a lift so I could go and join in.
We met at nearby Parcent at 09:00, when conditions were decidedly cool, before driving up over the Col de Rates and into Tarbena, where the walk was centred. We set off in cool sunshine but the initial ascent up to the first peak, topped by a fort, soon warmed up both legs and lungs.
It soon began to feel good being back out walking again. The last couple of years have been a little troubled vis-a-vis walking, first with myself suffering from an 18-month attack of plantar fasciitis, followed by Francine damaging an Achilles tendon. I now always add a Scholl gel insole to any new shoes or boots and Francine still has to be careful about choosing her footwear. At last, though, we think we're both up for it again.
The climb was worth it for the views back over Tarbena. Apologies for the crappy phone camera picture …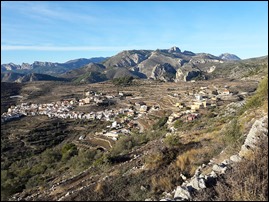 … [note to self: which I really must set back to 16×9, I hate that 4×3 nonsense.]
That first section was a there-and-back job with us descending back into Tarbena via the same route. We then struck out on the opposite side of Tarbena to ascend another small peak with similarly impressive views. I was taken by this sort of buttress-shaped rock formation seen across one of the orchards as we worked our way to the ascent.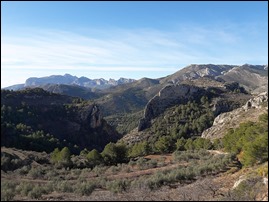 Along with us, the temperature had now climbed enough for me to discard a fleece in favour of a cover-up shirt. It was, of course, necessary to sit together in a bar enjoying a refreshment. 😉
'T was an enjoyable walk in a new, friendly company, an experience that I'd be keen to repeat. Hopefully, Francine will be with us next time. I'll keep my fingers crossed for good conditions next Monday.