We are based in Stanley, Vic. Stanley is a small village containing what we'd think of as a village store and a pub (apparently with a less than jovial barman). The nearest town to source supplies is Beechworth, about 10kms distant. Francine's brother, Michel, took us down to introduce us to it by means of a walking tour.
Beechworth is a cruciform town with a roundabout at the centre of its four arms, each arm being roughly ¼ mile long. The arms of the cross are lined with angled parking bays on each side. Out of tourist [known as terrorists in these parts] season, the town is calm and parking is easy. We swung into a free parking bay and took to Shanks's Pony.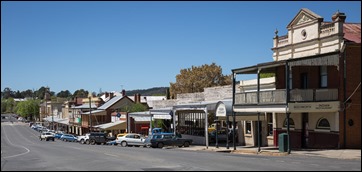 Now, this is wine country with valleys that make so-called cool climate wines. What it used to be was Ned Kelly country. Ned Kelly was the infamous bushranger [an Australian outlaw] portrayed by Mick Jagger on the silver screen. Ned's trademark suit of armour weighing over 90lbs is on display in one of the associated museum exhibits in Beechworth. You can walk into the small lock up where Ned was held in 1871 awaiting trial. We poked our noses in as we wandered up and down both sides of each of the four cross roads. The architecture feels quite old western, in a way, though there is some use of ornate wrought iron work on balconies that I don't think the outlaw Josey Wales would have seen.
As a bit of a foodie, some of the produce available in Beechworth was the most interesting to me. There was a great butcher, who also would take orders for fresh fish according to availability. We got some very tasty lamb chops for today and ordered some fish called Flatheads for the following day. The vegetables in the greengrocer were all locally sourced and stunningly tasty. I was particularly enamoured of the sweet red peppers which must be the best I've tasted. I may well be looking for an excuse to use more of those – a man can't have too many red peppers. 😉
Almost inevitably, our walking tour finished in a local bar to refresh our feet and legs.

Much refreshed, Michel was keen to help with a wandering dragonfly enthusiasts desire to look for a few new friends on a new continent. He drove us on to a local R&R spot called Woolshed Falls where there is also a waterfall that might provide some entertainment for Francine, too.

I know it's quite early in the dragonfly season, this being early spring Down Under, so I wasn't necessarily expecting to see very much, if anything. However, as I gingerly picked my route over some of the smoothed rocks beside the water course, a damselfly did flutter into q bush in front of me. I lost track of it. Fortunately, it reappeared and I kept track of it as it alighted in another bush. My first ever Australian odo was an immature Common Flatwing (Austroargiolestes icteromelas).

Further exploration revealed a dragonfly patrolling up and down a narrow water course. It flew constantly and never seemed to rest – nothing unusual. Following the watercourse upstream, we came across a calmer pool where a couple of individuals were flying back and forth. Yet again they were flying constantly without any sign of rest. An in-flight shot was the only option. This, my first Australian Anisoptera, is a so-called Tau Emerald (Hemicordulila tau).

As Francine was investigating the water fall, I found a second pool and a third new Australian friend. This gaudy red character is a Scarlet Percher (Diplacodes haematodes).
My thanks are due to a local contact, Reiner, for help with confirming/correcting my dragonfly identifications. Concerned about luggage space and weight, as well as wondering how much use it might be given the earliness of the season, I did not bring my field guide. Whoops! 🙂