With togrey's forecast being a morning of rain followed by an afternoon of grey skies, and tomorrow's forecast being for a mixture of light and heavy rain until about 4:00 PM, friend Keith has decided to cut his losses and head for home. I can't blame him, it's no fun sitting alone in a B&B watching rain run down the windows. We have the advantage of Guillaume being our own space, our home away from home, complete with all the comforts of home.
The morning was, indeed, mainly wet but it didn't seem quite as wet as the forecast. A morning for chores such as shopping at one of our new favourite stores: Booths. I would categorize Booths as the Waitrose of the north-west, a store that concentrates on quality rather than price, and the store in Keswick, the largest Booths, is just a few yards outside the campsite approach road. It's an easy walk from Guillaume. Booths even roasts its own coffee and to my unending surprise, they actually produce a drinkable decaffeinated coffee. Booths decaf is only the second drinkable decaf I've ever come across, the first being the excellent Starbucks decaffeinated espresso roast. Well done Booths. With an almost constantly full 250+ pitch campsite on their doorstep, this is an extremely well situated store with almost guaranteed passing trade. Canny Mr. Booth.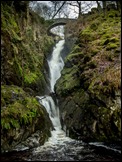 After the morning rain stopped, we drove over to Ullswater and one of the Lake District's more imposing waterfalls, Aira Force. Force appears to be a term used for many falls in these parts. This one was certainly very forceful after all the rain we've had.
Above and below the fall itself is a mountain stream tumbling through National trust woodland. To be honest, I found the upper reaches of the mountain stream more appealing than the waterfall itself, perhaps because the waterfall was just too powerful today to be particularly attractive. Being situated in woodland, the scenery actually benefited from the lack of sun, whereas huge vistas rather need the sun's illumination. The stream provided us with lots of amusement and was well worth the visit.
We climbed up to view point over Ullswater which, in the right conditions, would be up there in the stunning category. Today, though, the water vapour in the air made anything other than short range views very murky indeed. Not even worth wasting the pixels – quelle domage.
Tomorrow morning is forecast to have sunny spells so there may be a sunrise involved. Francine is setting the alarm clock for 5:30 AM. Arghhh!