Autumn is fire season in our local Spanish valley. I believe the folks with land and plant trimmings apply for permission to have a conflagration and get rid of their rubbish. Presumably this is so the bomberos [fire fighters] are aware and don't rush out unnecessarily. Presumably they also keep a watchful eye just in case it gets out of control and does become necessary.
In the early morning the smoke paints some interesting pictures. It tends to rise to a particular level and then spread cloaking part of the valley, depending upon the direction the breeze is blowing. Assuming we haven't been up an hour before sunrise, from our slightly elevated position, we get quite a good view of it.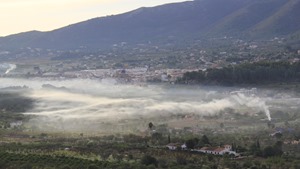 After the fires had died down and the smoke had cleared, the day was warm, though with less sun than yesterday. We went back to the Jalón river in search of an elusive Demoiselle that had flitted past us in a teasing manner yesterday but, alas, it remained elusive. I'm still of the opinion that it would have been a Copper Demoiselle (Calopteryx haemorrhoidalis). We have logged Copper Dems at the Fonts de L'Algar so we know they are in the area and the book (Dijkstra/Lewington) distribution map favours that species, too. However, our proof is missing so it remains just a likely suspect.
I did, however, manage to confirm that the river had a Migrant Hawker (Aeshna mixta) cruising about, though not with a publishable photograph. That puts my species list on the river up to 13, which is respectable, I'd say.