Thanks to our friends in the village, we've been put in touch with what I'd describe as a freelance bunch of walkers in the area; they call themselves the Costa Blanca Mountain Walkers. Thanks also to the fact that my extremely irritating thus far 14-month long attack of plantar fasciiitis appears to be at least subsiding – it hasn't actually gone away – I actually feel like doing considerably more walking at last. On this trip, Francine and I have been out on a few walks ourselves – those that we've managed to locate – and enjoyed them. And here's a point: one of the difficulties with walking in a strange area – we've suffered both in France and more recently in Spain from this – is finding and following a walk's supposed route. So, hooking up with what are essentially willing, free guides seemed like an excellent idea. Along with two others of our friends in the valley, today we went along on an exploratory ramble to meet them.
The CBMW folks had organized a coordinated set of four walks, all departing from the nearby village of Lliber. For freelancers, they seem extremely well organized. Their walks are graded rather like ski runs, as green (easy), blue (moderate), red (moderately strenuous) and black (strenuous) routes. Moderate, for example, is described as being:
up to 12km, less than 400 metres ascent and less than 50% rough going.
Since this was our first outing with them, and since we were still feeling our way back into it, we opted for the easy route, described as:
A walk of up to 4½ hours on good surfaced tracks and less than 200metres ascent.
Well, you've got to start somewhere.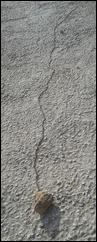 We began on an unfamiliar track and the first interesting item of the day was a long string of Pine Processionary Moth caterpillars marching, in their traditional follow-the-leader style, across a concreted section of path. The caterpillars hatch from large gossamer nests in pine trees – they can readily been seen hanging there at this time of year. The caterpillars' curiosity is that it is only the first in line that can see, allegedly, so all the rest follow on nose to tail like blind mice. Well, blind caterpillars, anyway. Now, such a spectacle fascinates Mr. Naturelover (me). Unfortunately for them, though, the caterpillars have a ferocious defence mechanism in the form of a covering of tiny poisonous hairs which can, it is said, kill a dog – the hairs break off and catch in a dog's throat, causing swelling and choking the beast. Or so I' was told. Here is an article sounding a little different, concerning the tongue rather than throat, but still including potentially fatal results. Being the founder member and president of the Dog-Free World Society, this is fine by me – there are far too many dogs on the planet and most are ill controlled – but it does upset dog-owners, which seem to constitute the majority of the human race, turning them into Pine Processionary Moth haters. Our back marker must have been one such because, as Francine and I stared in fascination at this curiosity of the natural world, he grabbed a rock, placed it over the lead caterpillar and trod on it. It's probably a very effective way of destroying the whole string of 'em, the rest of the critters being blind and now having no sighted leader. Unless they have an answer, such as another caterpillar suddenly developing sight, it seems like an evolutionary weakness. I imagine the remaining caterpillars now sit in the sun and desiccate waiting for the dead leader to start off again, though I'll have to do more research. I was perturbed but bit my tongue, which at least didn't swell up and choke me. [Seethe]

Still grinding my teeth, our route now turned out to be somewhat familiar, passing one of my dragonfly pools behind Lliber. It continued up the valley towards and into Jalón before crossing the river's course and returning on the opposite side back towards Lliber. Francine and I had walked the track beside the river course on a number of occasions, even with our favourite exception to the dog rule – OK, so I'm a hypocrite and should be a politician. However, we were led off piste to stare at another local curiosity, this one man-made. It's an old deposito, a water storage device, a.k.a. reservoir. Our neighbour, who has been visiting Jalón for 12 years, had been introduced to this old artefact a week or so earlier on his Riu-Rau walk. Water was pumped up out of this storage into irrigation channels, which could still just about be seen. There seems to be confusion over the age of this storage tank, Roman and Moorish being muttered, but I think I'd favour Moorish given the shape of those arches – very Alhambra. Not that I know anything of ancient things, you understand.
Educated, we continued back, passing through Lliber's cemetery, to the restaurant from which we had set out. Here, I must say, the restaurant did a splendid job of catering for the 100+ that had taken part in the four routes of the day. We were treated to two tapas, croquetas and albondigas, then in our case, Merluza [hake] in a saffron batter, though lamb, chicken and pork were also on offer, and finally a desert. Three courses with a half bottle of wine per head – 12€. Quite staggering. I still do not know how the Spanish do it. OK, this was not haute cuisine but it was good food.
Other than murdering caterpillars, the rest of the CBMW folks were a convivial bunch. We could have been more stretched so we will have to try one of their more challenging routes next time but I certainly hope there will be a next time.