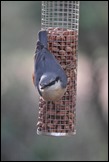 One of the items on our Brockenhurst shopping list of yesterday was peanuts. Not peanuts for us but peanuts for a bird feeder that we purchased down here on a previous visit. We are pitched beside a tree that has the perfect branch from which to hang our feeder. Within minutes of setting it up, the peanut feast had been discovered by a couple of Great Tits. Blue Tits soon joined in, then Coal Tits. Nuthatches have been hammering away occasionally too, head down as is their habit. This morning I was delighted to see a Marsh Tit munching briefly. (This is actually the only place I've personally seen a Marsh Tit.) Robins, Dunnocks, Chaffinches and Blackbirds are vacuuming up the crumbs that fall to the ground beneath the feeder. The birds seem very hungry and some look in rather poor condition in comparison to our birds at home, who are now looking splendid in their breeding plumage. We're wondering if these are suffering from a lack of tourists feeding them, combined with the weather being atrocious for insects, though I'd expect the forest to be a very rich source of natural food.
Now here's a thing: it wasn't actually raining this morning so we donned the wellies again and headed down to Tiptoe, an area of forest, within walking distance of our pitch, with a stream and flush . Matching our suspicions, we found the forest to be so saturated that it makes it quite difficult to walk anywhere. Dark, boggy pools hinder every step. As if to reinforce our idea that natural food may be short, we saw pretty much nothing moving. Let's face it, we were having trouble moving. I did disturb a couple of micro-moths on a gorse bush or two but that was it, even with a little weak sunshine.
As some sort of recompense, I took Francine out on a lunch date. We treated ourselves to whitebait washed down with a pint of Timothy Taylor's Landlord bitter. Very pleasant it was, too. The pub advertising the butchering of its own local beef and has an 8oz burger on the menu. All this and free wi-fi – hmmm!?
The afternoon proved disappointing on several scores. One of the scores was not, for a change, the weather, which produced some breaks in the cloud and a little sunshine, with temperatures soaring to the dizzy heights of 16°C/60°F. We headed for one of the better Odo spots in the area, Crockford Bridge and Stream. First disappointment: the car parks were closed, albeit for the laudable reason of protecting ground-nesting birds from indiscriminate walkers, so I really can't complain. Second disappointment: the flush that surrounds Crockford Stream around the bridge, had become a gush, so much so that it was almost hiding the stream. Again, nothing moved, other than the odd micro-moth. There were most certainly no Odos, though I'd really need to check the species list, currently unavailable, to see if any had been likely.

We made our way back via Hatchet Pond, which has some useful looking habitat at one end of it. Ignoring the ice cream vendor, we wandered off to see what we could find.
Approaching the useful looking habitat with some sun still present, I spotted a somewhat distant glint of weakly fluttering wings. A damselfly was making what I suspect was its maiden flight having just emerged as an adult. Its flight path took it, with the wind, away from the pond and it was heading for a gap between two trees. I was just about to give chase when a bird dropped out of one of the trees and snapped it up. Bother! Visions of a rookie RAF Spitfire pilot being pounced on out of the sun by a passing Luftwaffe ace sprang to mind. I wonder what species the hapless damsel had been?
At least one bird had found some natural food.