I'll keep this brief.
We were once again under the Scottish Highlands' blanket of cloud and back its mode highest temperature of 13°C. I have lost count of the number of days that have topped out at a meagre 13°C/55°F. Odonata hunting was clearly not going to be rewarding so we decided to go to the limit of public navigation of the road beside Glen Affric. According to the Forestry Commision Scotland, It is, after all"one of the most beautiful places in Scotland".
Driving the 10 tortuous miles along the single track road to the end of Glen Affric is moderately nervy with blind S-bends, passing places, occasionally just before the blind bend and muddy verges. It is of more concern when road signs indicate "construction traffic" to contend with as well. I drove very conservatively and finally, after passing some of said construction traffic and a couple of jumps into reverse to let a campervan descend, we arrived at the final car park to experience one of Scotland's best bits of scenery.
There was a short walk of about ½ml up to a viewpoint and back. As we approached, I could see that we were going to be disappointed. OK, the weather was dull and the light was rubbish but … really. The very centre of the view was ruined by a crane and assorted construction detritus. Bloody brilliant!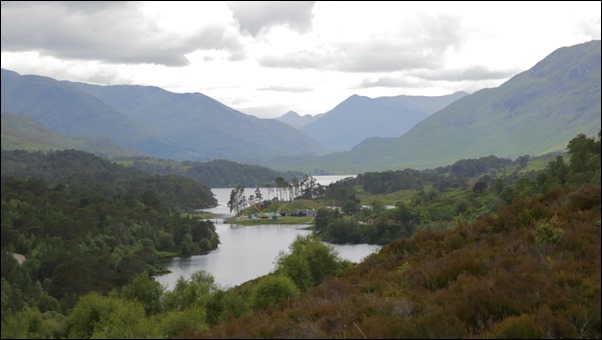 Thankfully the car park ticket machine was out of order, like the one at Dog Falls, so at least we didn't waste any money.