[This is one of those retrospective posts, written after the event :)]
We were introduced to the Jalón Valley on Spain's Costa Blanca back in May 2006 by our next door neighbours. That  long weekend trip was our first Spanish experience but, as a result, in 2007 we began an illustrious career house-and-pet-sitting for two other expat couples living there permanently. Most of our services were to one couple in particular, with whom we are now good friends. Our services were once again required between 22nd November and 6th December, 2014. We flew out.
Our hosts are trying to sell up and move back to the UK. Poor Scamp, a.k.a. el perrito, he hates the rain. Poor us, our house-and-dog-sitting days may be drawing to a close. We've grown rather attached to this little valley in Spain over the last seven years and have made a few friends there. the thought of not going again didn't sit well, on my shoulders, anyway. Neither, it seems, did it sit well on Francine's shoulders. This came as a bit of a surprise to me until it was explained to me that the thought of moving to Spain lock, stock and barrel was not viewed favourably but the concept of a holiday home there did appeal. So, we had in our minds that we might use this two week trip to cast our eye over properties in case anything grabbed.
We used our time to wander over to some apartments being sold apparently very cheaply (~50,000€ for two bedrooms) in Lliber, a village in the same valley. Though cheap, they didn't really appeal. A cheap property is only good value if you actually want it and could feel at home in it. I think it dampened our enthusiasm a little.
On our last full day, our friends' agent dropped by for a viewing of their house and we arranged to see some other apartments in another development in Jalón. The apartments in question were actually 2-story town houses half way up the mountain on the north side of the valley, facing south. They are built in blocks of 5 ort 6 units, which look a little like prison blocks from a distance, hence their affectionate local nickname amongst the expats of Colditz. So, I didn't have particularly high expectations. Jaime, the agent, collected us and drove us up for a viewing.
Well, we liked the show house the instant we walked in. A pleasant, airy, modern, open plan space with master bedroom, bathroom, kitchen and lounge/diner on the upper level, and two further bedrooms and shower room on the lower level. Here's the floor plan.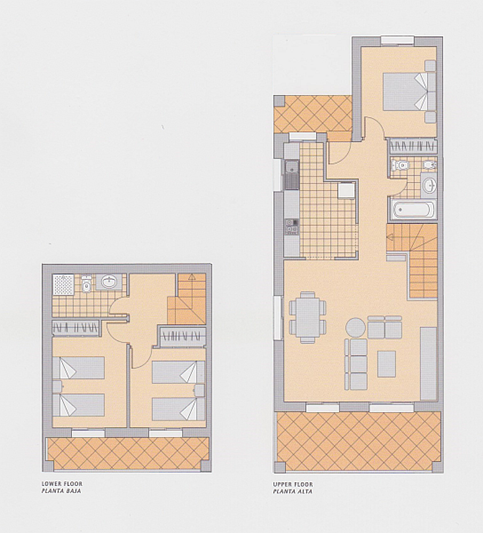 We were impressed and, actually, from close to, the blocks weren't as bad as we had suspected and the nickname would have one believe. I was sorely tempted to say yes immediately but I'm by nature a cautious person. Calm down, John, think.
During our Saturday return flight to the UK, we thought:
we'll be losing our house-sitting assignment;
Spanish property prices are about as low as they've ever been because of the financial crisis;
the pound/euro rate is as good as it's been for 6 years [~1.27 at time of writing];
within a week or two, I was expecting proceeds from the sale of my late mother's flat in the UK;
Timing couldn't be a lot better. We're 61, not getting any younger and it's time for some excitement. We decided to go for it.
There were 24 units for sale but we really wanted one of the end units so that we had only one neighbour and, of course, there are considerably fewer end units. We also preferred a west-end unit for the evening sun; now we were down to a choice of two, I think. We made our selection.
OK, decision made. My first challenge was to transfer a 3000€ holding deposit to the bank that is selling these properties. The builder got into difficulties and a bank is selling them, hence the bargain basement price. There are companies that specialize in foreign money transfers and they give a much better rate than a high street bank. On large amounts, it can amount to a large saving. However, for expediency on the initial deposit, since such an account takes a while to set up, I just decided to use my local Barclays.
So, on Tuesday 9th December, three days after landing back at home, I wandered into Barclays and arranged for my first ever international money transfer. The thing with online money transactions that makes me nervous is the transposing of, say, two digits and sending wads of cash flying off the wrong person. Here I was dealing with a 24-character IBAN (International Bank) number; the possibilities for cock-up were almost endless. Heart in mouth! My 3000€ whizzed off into the ether … somewhere.
Another good test as to the sense of our decision: we would have been upset were we to fail to secure our chosen property.
Today, Thursday 11th I heard that our deposit had arrived in the right place safely. Phew!