[Yes, I know I'm getting this all arse-about-face but that's what happens swilling wine on the road.]
Just above La Rochelle is the Baie de L'Aiguillon. We've been there before and, if you time it right, there are a couple of shacks where you can treat yourself to a bowlful of moules marinière. We didn't, the shacks were shut. What Francine had in mind was messing about with her camera, complete with Lee filters, pointed at what I can best describe as fishing piers. [There is a fancy French name that our friends mentioned but I can't for the life of me remember it. Tut!]

We first trotted along, with Mike and Linda, for some early evening light and bravely armed with a picnic. As it turned out, the tide was quite a long way out, rather too far for the slowing effect of the filters to be particularly effective as regards the water. There were, however, some clouds which a strong on-shore wind was helping along reasonably briskly. Francine struggled gamely in the teeth of the uncomfortable wind, pointing at various fishing piers and at various angles. Here's a shot that we think is worth showing so you can get the idea.
It swiftly became apparent to all four of us that these cliffs were no place for an evening picnic to all but the masochistic. Frankly, I was relieved, I've become disenchanted with most picnics, frequently perching on lumpy rocks or sitting on the ground with legs that no longer wish to cross comfortably. Add to that late summer attacks by swarms of hungry wasps and I rapidly begin to prefer the comfort of a more controlled environment including a chair and a table. Mind you, in this wind, any passing wasp would have done so very rapidly indeed, soon finishing up in Nantes. :))
It's an interesting area with quite a bit of ground below sea level. In bad weather, the on-shore prevailing wind occasionally helps not only clouds along but also large volumes of the Atlantic ocean which can hop over the sea wall and finish up on the low-lying land. Such a sad event happened a few years ago when much of the west coast was flooded and destroyed. Some of these fishing piers looked pretty original, though, so perhaps their stilt construction helped some survive the destructive force of the storm.
We returned today with Francine hoping that perhaps the tide would be in and that the moules shacks might be open for lunch. Silly us, it's a Monday and frequently used as a restaurant day off. Apart from not knowing when the moules shacks were closed, we didn't know the timing of the tides either. The water was so far out it wasn't in sight at all. Digging in her bag of tricks for an inventive approach to the vast brown mud flats topped with blue sky, Francine took a leaf out of Mark Rothko's book and came up with this.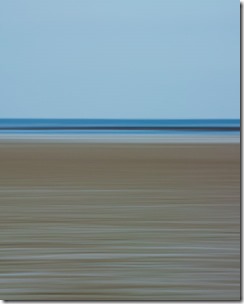 Neat, eh? So, here's my question:
why would one use a £2200 camera body with a pin-sharp, pro-grade £1200 lens mounted on the front to take a blurred picture?
No, seriously, I do like Francine's Rothko treatment on the expensive kit. Quite a lot, actually. 😀