We tend to tune in to local BBC radio stations when we're away in Guillaume, for weather forecasts, mainly. Whilst listening to BBC Radio Solent, we heard them banging on about what seems to be a minor historic event. and today's the day. At about 5:15 AM, all three of Cunard's fleet, Queen Elizabeth, Queen Victoria and Queen Mary 2 sailed into Southampton Water. The three are together to mark the 10th anniversary of the Cunard flagship, QM2.
As a person not into matters maritime, I found the most interesting aspect stemming from the discussions by various contributors to be the drawing of a distinction between ships and liners. QM2 is, apparently, an ocean liner; actually the world's only currently serving ocean liner. On the other hand, her two sisters, Queen Victoria and Queen Elizabeth, are cruise ships. Good ol' BBC Radio Solent presenters were nattering to QM2's designer who explained that the difference lies in the design and construction. Liners are much more strongly built with a thicker hull, in QM2's case up to 38mm of steel, whereas cruise ships are more lightly (and more cheaply) constructed with something more like 18mm of steel in the hull. There are other design differences, such as a liner having a deeper draught for stability, and wave-piercing bows but these various differences really stem from usage. Liners are designed to carry passengers from A to B in all weathers, the classic journey being a north Atlantic crossing. The cruise ships are more of a booze cruise affair, taking hoards of drunken, over-fed tourists around the Mediterranean or Caribbean ports. Live and learn!
We weren't up at the crack of sparrow fart to see the spectacular arrival of all three Queens but we did pop down to Hythe, which lies opposite Southampton docks, to have a look at the ships in port. Southampton harbour being a less than attractive setting, frankly I was underwhelmed, but here's a snap anyway, just for the record. (That's Queen Victoria distant left, QM2 stern on dead centre and Queen Elizabeth on the right.)

After staring at the three floating hotels for a while, we headed out for Lepe Country Park but the high winds at the coast made the prospect of getting out of the car and walking somewhat less than appealing. Instead, we continued along the country lane that is the coast road at this point and eventually drove into Exbury, whereupon Francine mentioned Exbury Gardens. Exbury Gardens is another of the Rothschild estates, this one formerly of Lionel de Rothschild.  There being little better in prospect by way of diversion, even I, a non-gardener, suggested we might go in for a visit. While we were parked attacking our lunch, we were entertained by an charismatic narrow gauge steam locomotive called Mariloo tasked with pulling open carriages loaded with tourists around part of the estate.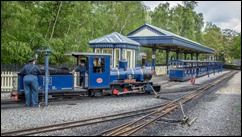 Lionel de Rothschild devoted his estate to his botanical passion, the rhododendron. Exbury Gardens now looks like a living rhododendron museum. Westonbirt may be the National Arboretum but this place would richly deserve the tag, National Rhododendron Collection. The sheer number and variety, in terms of colours and sizes, of this Victorian-led invasive species on show here is nothing short of jaw-dropping. Invasive or not, I could understand the Victorian attraction to these plants and even I had to admit that the display was very attractive, despite some of the specimens being well past their best. From above, I imagine the garden would resemble a 2km2 (my estimate) artist's palette. Francine even found a couple of patches of two orchid species, one of which was certainly Green-winged Orchid, growing in a couple of areas. The garden also had number of very well executed water features but we won't mention dragonflies, this time. 😀
I'm struggling to think of a more impressive garden that I've seen. Of course, I haven't actually seen that many. We do live near a couple of other former Rothschild properties, though, and Exbury certainly puts them in the shade.