A mixture of sunshine and showers, some of which might be heavy, was forecast. We decided to put the coastal effect to the test and headed for Hengistbury Head, just south of Christchurch, where the sky did indeed look brighter. We parked and coughed up for two hours worth, then set off to investigate the head itself.
Brighter the sky certainly was but there was still a stiff wind blowing in from the south-west, whipping up a choppy sea full of white caps. Sounds like a good force 5, if I remember my Beaufort Scale (which I most probably don't).
Hengistbury Head was settled thousands of years ago and appears to have been subjected to a good deal of archaeological investigation. The high point now offers good views across Christchurch harbour and to the Mudeford sand bar.
Inexorably drawn to its collection of colourful, if occasionally dilapidated, beach chalets, this is where Francine next fancied heading.

Part way along the lines of chalets, a café catering to the beach community provided our lunch in the form of two Cornish pasties. We fell into conversation with a painter engaged in decorating the door of the café, who mentioned that "they" had forecast a 2-week heat wave starting in a week or so's time. We both remembered a similar forecast of a 2-month heat wave from about a month ago. Neither of us found this forecast any more believable.
Our new acquaintance's initial comment had been triggered by a rapidly approaching dark sky. We were at the furthest point we could get from our car and the end of our pasties soon turned into a rather soggy affair as force 5-ish wind-blown rain began peppering us. Francine had no waterproof, though I'd chosen to wear mine more against the cutting wind than anything else. We began walking back against the driving rain and my trousers quickly looked wetter than Francine's, as all the rain running off my jacket soaked into my trousers. For the second time, I was starkly reminded of the almost pointless nature of a waterproof jacket without any accompanying waterproof over ones legs. This time I became aware of a second miscalculation: though my walking shoes may be waterproofed with a Gortex-like membrane, what use is this if ones socks get as saturated as ones trousers and wick moisture down inside those shoes?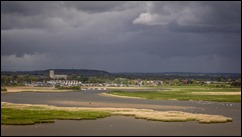 I stand by my firm belief that it is far better not to venture out in such weather conditions.
The downpour passed and the sun returned. Aided by the continuing wind, both began drying out may wringing wet trousers. The drying process continued as we drove back and called in to a Sainsbury's, where I decided to buy a few additional prawns to boost the protein content of our hungrily anticipated Poodle Alaska.
Our Alaska proved to be most enjoyable, quite the tastiest poodle I've ever had. A bottle of dry Spanish rosado washed it down quite well.