The observant may have noticed that Franco has been strangely quiet since Boxing Day 2013 [a.k.a. Piglet Day]. This silence was largely down to something of a hiatus back at home caused by Francine's mother taking a tumble on Boxing Day whilst visiting Francine's sister. Whilst tumbles for a 92-year-old can prove terminal, fortunately on this occasion nothing was broken (except, perhaps, the wardrobe onto which she fell) but mother-in-law was severely shaken up and was not recovering well. This situation resulted in a lot of time spent fretting, wondering about returning to the UK and checking available flights should it be deemed necessary to do such a thing.
Enough explanation as to the delay. Now that we are actually back at home, on with the story with entries dated appropriately.
After the first of many phone calls back home and rather by way of a distraction, we decided to pop of to the coast; the sea is usually an uplifting experience, even the Mediterranean.
We have been to Moraira one a previous occasion but that was an evening social involving 10-pin bowling and fish and chips. Yes, I'm ashamed to say that, just to be social, we did agree to eat in the archetypal English fish and chip restaurant in Spain. Shame on us! Moraira seems to be much favoured by expat Brits and caters to them. This time would be different – now we were playing tourist.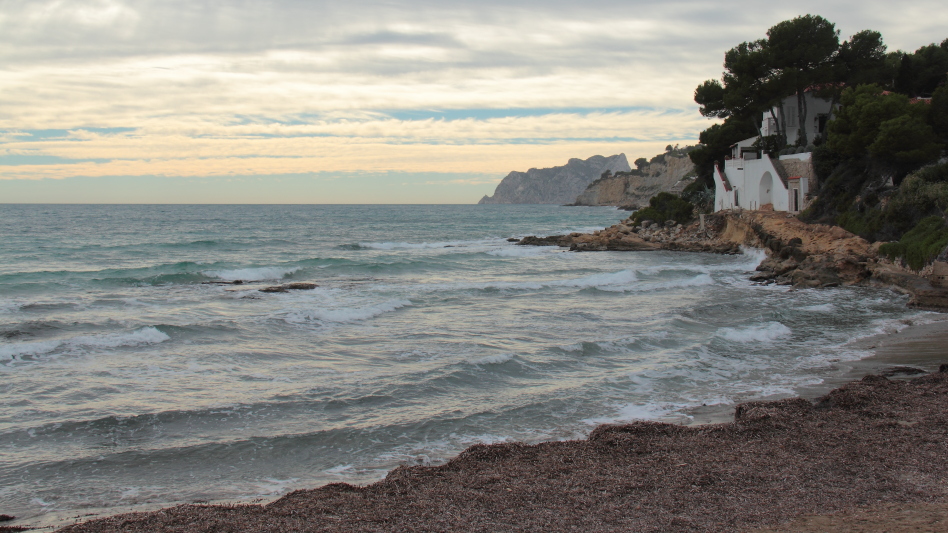 Moraira is an attractive, if slightly confusing beach resort. When we parked at this resort on Spain's eastern Mediterranean cost and began walking along the front, we were not really prepared for Moraira to be facing south. "Wait a moment, what's the sun doing over there", was the sort of thought that went through our minds. A glance at a map sorts out the confusion and the bay does indeed curve round and face south. This shot is looking south to the large rock at Calpe. Someone had been getting creative along the front with some large pieces of metal, too.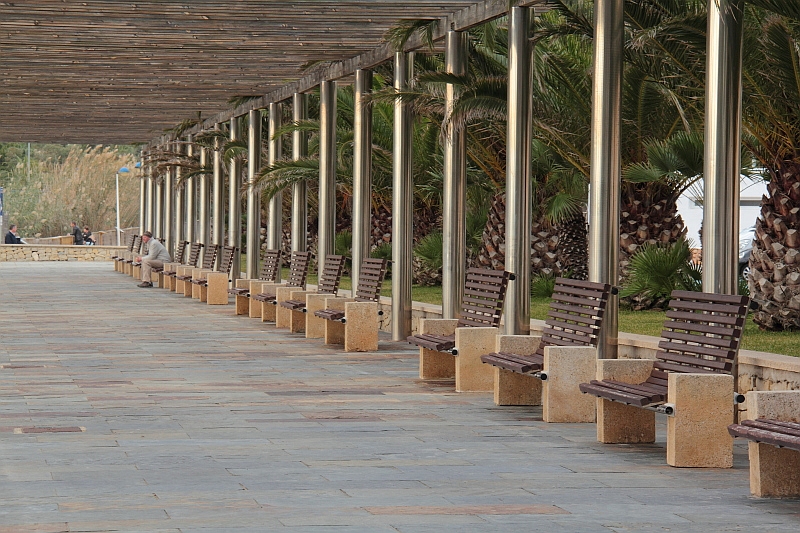 At the end of this attractively done shaded walkway (that's Franco sitting down towards the end of it) was an interesting-looking lagoon complete with reed beds. Having spotted a few dragonflies in Jalón immediately prior to Christmas, I couldn't resist giving it the once over but, alas, to no avail. Other than a collection of Muscovy ducks (apparently natives of Mexico) and moorhens, my most interesting find was a Grey Heron.
We sat and enjoyed a cafe solo [Spanish espresso] served, completely unexpectedly, accompanied by a cream-stuffed profiterole drizzled with chocolate sauce. What a pleasant touch.
Moraira made a pleasant distraction from events at home. If the latter allowed, Francine fancied a pre-dawn photo shoot with muggins as driver. We'd have to see how things developed.