Yes, it's been snowing this morning in the Jalón valley. You see, Spain DOES have winter.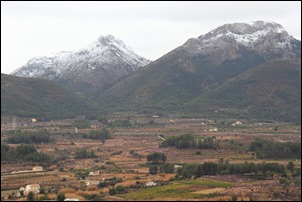 Nothing has settled on the valley floor but the surrounding mountains have been dusted with icing sugar.
We are booked in for the annual Almond Blossom walk Next Wednesday, 7th February, and the almond trees have begun blooming. You can just see a faint pink blush in some of the valley orchards. Lets hope the blossom survives its wintry experience.